Any income or earnings statements are my earnings. There is no assurance that your earnings or income will match my figures, or that you will make any money at all.  If you rely on my examples or figures, you do so at your own risk, and you accept all risk associated with your reliance.
Yoonla is the easiest way to earn online that I have seen since becoming a full-time internet marketer in 2012.
You can see my review video and payment proof by Clicking Here
Please like and comment on the video. Thanks

Yoonla is a program that pays you for getting people to enter their email address to join Yoonla free whether or not they decide to upgrade.
You can join Yoonla from any country except Vietnam.
You get paid $4 per email address from United States, United Kingdom, Canada, Ireland, Australia and New Zealand.
You get paid $2 per email address from all the other countries except India, Pakistan, Niger, Nigeria, Vietnam, Uganda, Zambia or Zimbabwe which pay nothing.
Here are some recent commissions: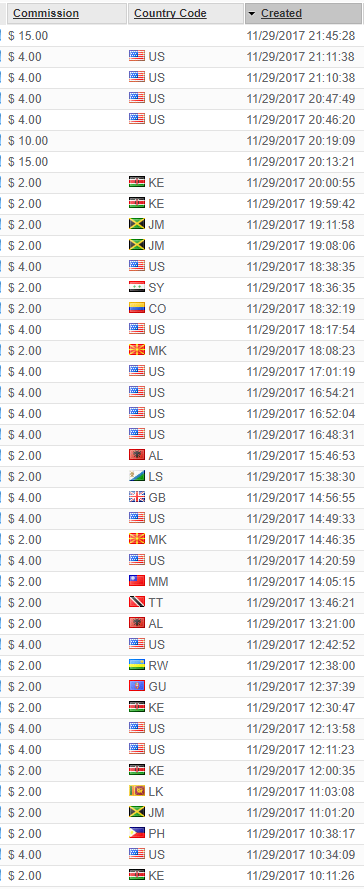 Yoonla is free to join and there is a lot of free training available on affiliate marketing.
In order to earn those $2 and $4 commissions, you need to purchase Getresponse autoresponder, $15 monthly, and hosting $10 monthly, for a total of $25 monthly. The first month you also have to buy a $10 domain which is per year.
You have to buy these through Yoonla's affiliate links even if you already have them. Just consider it a $25/month fee to earn!
I have personally made $576 in July, $1714 in August and $1933 in September, $2961 in October and I have $6438 pending for November and December.
That's a total of $13,622.00.
When you join Yoonla from my link you get my help and guidance!
After Registering confirm your email address by clicking the link in the email they send you.
If you don't receive an email within a few minutes check your spam or junk folder.
Afte confirming your email and creating your account, click the big blue button that says "Claim your custom setup" and then follow the instructions.
Enter my affiliate id on the setup form to make sure you are on my team.
596247918b0dc
If you have any questions or need help email me at ed@ed-newman.com or message me on facebook by clicking here
It takes Yoonla 2-7 days to get you setup.
You can watch my video here on getting started. Watch Now.
There are some cons with Yoonla.
It takes 2-7 days to get setup.
Like any CPL/PPL type program,  Yoonla only pays for the same email address the first time. So if I send bob@bobbo.com and then later you send bob@bobbo.com, only I get paid for him.
Yoonla only pays via Paypal.
They pay at the end of the month for the previous month. For example, they pay for Commissions generated in October at the end of November.
Before they pay you they check the leads for quality. They do not disclose what they check for. They seem to disapprove around 20% of the leads.
The Yoonla website and training is only in English so leads you refer must be able to read English to be able to participate in earning commissions.
Overall I consider Yoonla to be a great program and it is my main source of income starting December 2017.
Click Here to join my team and get my help!
Once you get approved by Yoonla I will send you the next steps.
Contact me with any questions or if you need any help.
If you found this post to be useful or think your friends would please like AND share it using the buttons on the left! And please leave a comment below. Thanks!